DECONTAMINATION CARPET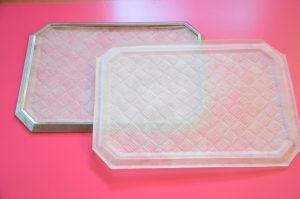 Why ? 
The decontamination carpet device for protection against contamination by germs carried by shoe soles. The mat is intended to be installed on the ground at the entrance of the sensitive areas. It helps to fight against the risk of epidemics and / or pollution. This is for example to protect surgery operating units, halls of hospitals, access to aircrafts, pharmaceutical and food premises, …
How ? 
Compared to existing solutions, our decontamination carpet is more practical, more economical and environmentally friendly. Our device comprises an absorbent membrane for receiving disinfectants. The manufacturing process being the same as that of the pull-LinerTM technology, five membranes of the carpet are thermoformed simultaneously to be made integrally but are peelable all together.
Conclusion
Compared to other products, our carpet avoids excessive dispersion liquid microbicide chemically dangerous. In addition, the simple and fast refurbishment operation of the system requires little labor and thus does not hinder the movement of users in areas where passage may be important. During production, they can be designed in multi or single model, as needed.
For information on our licensing and distribution for this product, do not hesitate to contact us.